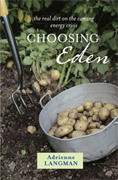 Choosing Eden
by
Adrienne Langmanis
an inspiring first-hand account of their efforts to learn how to get back to basics and live off the land. It's a fascinating story told with warmth and humour, but it has an urgent message: we need to make changes in our lives, and the sooner we act the better.
Readers Review
Edit
Review by Greenfoot
I've just finished reading Choosing Eden, which coincides well with the rising oil and fuel prices that are dominating media headlines. The author, Adrienne Langman, tells a compelling tale of how she and her husband learn about the peak oil crisis. As a result they leave their comfortable life in the Eastern suburbs of Sydney to create a more sustainable life in Northern NSW - Nana Glen near Coffs Harbour. Their dream is to establish a permaculture farm, which they call Eden Forest Permaculture Sanctuary. This is so they won't be reliant on the rising costs of living associated with increasing oil prices. The story begins with Adrienne and her husband's first discovery of the peak oil crisis, to selling their Sydney home, buying a farm, and learning about and setting up a permaculture farm on their land.
The story is incredibly inspirational because Adrienne and her husband are in their 50s and they leave a well established community of family and friends in Sydney to step into the unknown. If you're like me – you live in a city but are always dreaming of moving to the country to create a more sustainable lifestyle then this book will make you want to do it even more. Choosing Eden is a really great read and although it was only published last year, I'm already waiting for the follow up book, which I hope Adrienne is writing now.
For more book reviews from Greenfoot, click here!
Ad blocker interference detected!
Wikia is a free-to-use site that makes money from advertising. We have a modified experience for viewers using ad blockers

Wikia is not accessible if you've made further modifications. Remove the custom ad blocker rule(s) and the page will load as expected.