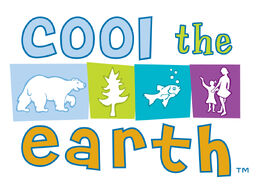 Cool the Earth is a non-profit organization located in the San Francisco Bay Area offering a climage change program to over 100 elementary Schools. The mission of Cool the Earth is to educate kids and their families about climate change and motivate them to take simple measurable actions at home to reduce their carbon emissions.Cool The Earth
CTEI was founded in 2006 by environmental and business entrepreneurs Carleen and Jeff Cullen to effect change in the climate crisis. Motivated by their understanding of climate change, and a concern for the health and well-being of the next generations, the Cullens pulled from their business experience in marketing, technology and finance to launch Cool the Earth, Inc.
A brief overview of Cool the Earth Inc.:
Grassroots organization founded by parents in the SF Bay Area.
Launched program in 2007 now reaching over 95 schools, and over 60 under-served aftercare centers, and Girl Scout troops in the Bay Area in 2010. The program has now catalyzed over 80,000 energy-efficiency actions.
CTEI offers a unique school-to-home program that is not curriculum-based. Instead, it uses an innovative method that engages all the children at school and gives them the tools to catalyze their parents so that the whole family reduces their carbon footprint. The program is built around community action. Children, parents, and teachers see that by working together, individual actions are meaningful.
Kids who participate are learning about consumption habits, and parents are becoming engaged in the climate change crisis—similar to how kids brought home the message of recycling and "don't smoke."
Established key partnerships with The Bay Area Air Board, Marin Community Foundation, Marin Conservation Corps, Strategic Energy Innovations, Marin Municipal Water District, Safe Routes to School, Al Gore's The Climate Project.
Received an Excellence Award from the California Air Resources Board; Cool the Earth's founder, Carleen Cullen was the recipient of the Jefferson Award, a program of the American Institute for Public Service.Cool the Earth has also won a "Clean Air" Award from Breathe California.
Currently available for free to any elementary school in the USA, the Cool the Earth program launches with a school-wide assembly featuring an age-appropriate play, which educates children about global warming and empowers them to take 20 low or no-cost actions to reduce their energy use at home.
The 3-5 month program measures the actions the children and their families take from a coupon book which goes home with the kids, and celebrates the results on a visible banner at school. Cool the Earth is successful because it is optimistic, action-oriented, and has measurable results in the community. This program is available to any elementary school in the country at http:coolthearth.org. The program has already motivated over 44,000 kids and their families to take over 80,000 actions to reduce their carbon emissions, eliminating 60 million pounds of global warming gases from the atmosphere.