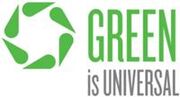 Green Is Universal is the environmental initiative of the American media and entertainment company, NBCUniversal. It is focused on bringing environmental perspectives to NBCUniversal's products. Including film and television production, programming, etc.
Green Is Universal makes every product of NBCUniversal greener and environment-friendly. It also help promote environmental conservation through NBCUniversal's portfolio of news and television networks, film production companies, significant TV production operations, leading TV station groups, and its world-renowned theme parks. The initiative translates the company's environmental commitment into action. It makes the company work hard to mobilize their assets to protect the planet. 
Celebrations
Edit
Earth WeekEdit
Green Is Universal hosts their yearly Earth Week celebrations. NBCUniversal celebrates this environment-inspired week via their assets. It includes changing their corporate logos to green, adding greener segments to NBCUniversal's TV shows and the More You Know environmentally-themes public service announcements. It is also celebrated in the Universal Theme Parks in Orlando and Hollywood and by different NBCUniversal stars.
Lights Off Screens OnEdit
The initiative also hosts the Lights Off Screens On campaign which began in 2014 for the celebration of Earth Week that year. Its goal is to host parties to promote their campaign to switch off lights while watching favorite NBCUniversal TV shows. According to their research, if the viewers turn off their lights in their homes for an hour every day, they'll save more than 5 billion kilowatt hours of electricity nationwide, each year. It hosts diferent parties in Universal CityWalk Hollywood and on Twitter with special celebrity guests. It encourages the viewers to pledge how many lights the viewers will turn off anytime the TV screen is on.
Ad blocker interference detected!
Wikia is a free-to-use site that makes money from advertising. We have a modified experience for viewers using ad blockers

Wikia is not accessible if you've made further modifications. Remove the custom ad blocker rule(s) and the page will load as expected.