How Smart Companies Use Environmental Strategy to Innovate, Create Value, and Build Competitive Advantage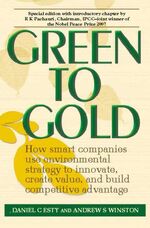 This book explores what every executive must know to manage the environmental challenges facing society and business. Based on the authors' years of experience and hundreds of interviews with corporate leaders around the world, Green to Au shows how companies generate lasting value – cutting costs, reducing risk, increasing revenues, and creating strong brands – by building environmental thinking into their business strategies. Esty and Winston provide clear how-to-advice and concrete examples from companies like BP, Toyota, IKEA, GE, and Nike that are achieving both environmental and business success. The authors show how these cutting-edge companies are establishing an 'eco-advantage' in the marketplace as traditional elements of competitive differentiation fade in importance.
Ad blocker interference detected!
Wikia is a free-to-use site that makes money from advertising. We have a modified experience for viewers using ad blockers

Wikia is not accessible if you've made further modifications. Remove the custom ad blocker rule(s) and the page will load as expected.