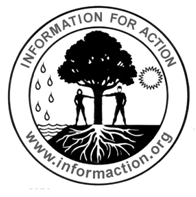 Information For Action (I.F.A.) is a not-for-profit Association based in North Perth, Western Australia, Australia. The organization provides a wide range of information in concern with the environmental change in global community. Some of the topics are: pollution, population growth, nuclear energy, urbanization and etc.
I.F.A. runs an automated lobbying service for anyone interested in the environment. The service is free of charge and it connects people with their leaders (politicians and leaders in industry) via an internet contact information database. It helps people who want to lobby their government to take action.
The organization's website contains hundreds of articles that explain the environmental problems and offers solutions. The articles are available in seven languages: English, French, Spanish, Portuguese, Italian, Chinese and Japanese. In addition, the website features the contact details of over 2000 politicians and 200 heads of financial institutions and corporations.
Green Pages Project
Edit
The green pages are created in 2008 and works as a portal to ethical and sustainable products. The Green Pages does not sell any of its own products. All the products on the website are from a wide range of independent suppliers, all of whom are have committed to operating according to a core set of values that are listed below. The Green pages ethics of criteria include:
Care for the environment
Responsible, fair and sustainable trading practice
The avoidance of short term business practice that cause long term environmental damage
Equitable, non-exploitative employment practices
Socially responsible activities
External links
Edit
Ad blocker interference detected!
Wikia is a free-to-use site that makes money from advertising. We have a modified experience for viewers using ad blockers

Wikia is not accessible if you've made further modifications. Remove the custom ad blocker rule(s) and the page will load as expected.