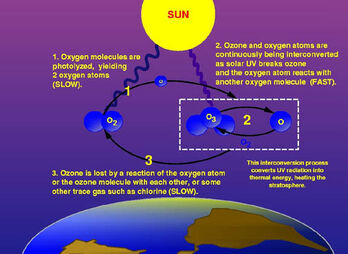 Ozone (O3, pronounced /ˈoʊzoʊn/), or trioxygen, is a triatomic molecule, consisting of three oxygen atoms. It is an allotrope of oxygen that is much less stable than the diatomic allotrope (O2). Ozone in the lower atmosphere is an air pollutant with harmful effects on the respiratory systems of animals and will burn sensitive plants; however, the ozone layer in the upper atmosphere is beneficial, preventing potentially damaging electromagnetic radiation from reaching the Earth's surface. Ozone is present in low concentrations throughout the Earth's atmosphere. It has many industrial and consumer applications.
Health effects
Ground-level ozone is created near the Earth's surface by the action of daylight UV rays on a group of pollutants called ozone precursors. There is a great deal of evidence to show that ground level ozone can harm lung function and irritate the respiratory system.[1][2] Exposure to ozone and the pollutants that produce it is linked to premature death, asthma, bronchitis, heart attack, and other cardiopulmonary problems.[citation needed]
Long-term exposure to ozone has been shown to increase risk of death from respiratory illness. A study of 450,000 people living in United States cities showed a significant correlation between ozone levels and respiratory illness over the 18-year follow-up period. The study revealed that people living in cities with high ozone levels such as Houston or Los Angeles had an over 30% increased risk of dying from lung disease.[3][4]
Air quality guidelines such as those from the World Health Organization, the United States Environmental Protection Agency (EPA) and the European Union are based on detailed studies designed to identify the levels that can cause measurable ill health effects.
According to scientists with the EPA, susceptible people can be adversely affected by ozone levels as low as 40 nmol/mol.[5]
In the EU, the current target value for ozone concentrations is 120 µg/m³ which is about 60 nmol/mol. This target applies to all member states in accordance with Directive 2008/50/EC. Ozone concentration is measured as a maximum daily mean of 8 hour averages and the target should not be exceeded on more than 25 calendar days per year, starting from January 2010. Whilst the directive requires in the future a strict compliance with 120 µg/m³ limit (i.e. mean ozone concentration not to be exceeded on any day of the year), there is no date set for this requirement and this is treated as a long-term objective. [6]
The Clean Air Act directs the EPA to set National Ambient Air Quality Standards for several pollutants, including ground-level ozone, and counties out of compliance with these standards are required to take steps to reduce their levels. In May 2008, the EPA lowered its ozone standard from 80 nmol/mol to 75 nmol/mol. This proved controversial, since the Agency's own scientists and advisory board had recommended lowering the standard to 60 nmol/mol, and the World Health Organization recommends 51 nmol/mol. Many public health and environmental groups also supported the 60 nmol/mol standard.[7] On January 7, 2010, the U.S. Environmental Protection Agency (EPA) announced proposed revisions to the National Ambient Air Quality Standard (NAAQS) for the pollutant ozone, the principal component of smog:
... EPA proposes that the level of the 8-hour primary standard, which was set at 0.075 μmol/mol in the 2008 final rule, should instead be set at a lower level within the range of 0.060 to 0.070 μmol/mol, to provide increased protection for children and other ''at risk'' populations against an array of O3- related adverse health effects that range from decreased lung function and increased respiratory symptoms to serious indicators of respiratory morbidity including emergency department visits and hospital admissions for respiratory causes, and possibly cardiovascular-related morbidity as well as total non- accidental and cardiopulmonary mortality....[8]
The EPA has developed an Air Quality Index (AQI) to help explain air pollution levels to the general public. Under the current standards, eight-hour average ozone mole fractions of 85 to 104 nmol/mol are described as "unhealthy for sensitive groups," 105 nmol/mol to 124 nmol/mol as "unhealthy," and 125 nmol/mol to 404 nmol/mol as "very unhealthy."[9]
Ozone can also be present in indoor air pollution, partly as a result of electronic equipment such as photocopiers. A connection has also been known to exist between the increased pollen, fungal spores, and ozone caused by thunderstorms and hospital admissions of asthma sufferers.[10]
In the Victorian era, one British folk myth held that the smell of the sea was caused by ozone. In fact, the characteristic "smell of the sea" is caused by dimethyl sulfide a chemical generated by phytoplankton. Victorian British folk considered the resulting smell "bracing," but in high concentrations, dimethyl sulfide is actually toxic.[11]
Physiology
Ozone, along with reactive forms of oxygen such as superoxide, singlet oxygen, hydrogen peroxide, and hypochlorite ions, is naturally produced by white blood cells and other biological systems (such as the roots of marigolds) as a means of destroying foreign bodies. Ozone reacts directly with organic double bonds. Also, when ozone breaks down to dioxygen it gives rise to oxygen free radicals, which are highly reactive and capable of damaging many organic molecules. Moreover, it is believed that the powerful oxidizing properties of ozone may be a contributing factor of inflammation. The cause-and-effect relationship of how the ozone is created in the body and what it does is still under consideration and still subject to various interpretations, since other body chemical processes can trigger some of the same reactions. A team headed by Dr. Paul Wentworth Jr. of the Department of Chemistry at the Scripps Research Institute has shown evidence linking the antibody-catalyzed water-oxidation pathway of the human immune response to the production of ozone. In this system, ozone is produced by antibody-catalyzed production of trioxidane from water and neutrophil-produced singlet oxygen.[12]
When inhaled, ozone reacts with compounds lining the lungs to form specific, cholesterol-derived metabolites that are thought to facilitate the build-up and pathogenesis of atherosclerotic plaques (a form of heart disease). These metabolites have been confirmed as naturally occurring in human atherosclerotic arteries and are categorized into a class of secosterols termed atheronals, generated by ozonolysis of cholesterol's double bond to form a 5,6 secosterol[13] as well as a secondary condensation product via aldolization.[14]
Ozone has been implicated to have an adverse effect on plant growth: "... ozone reduced total chlorophylls, carotenoid and carbohydrate concentration, and increased 1-aminocyclopropane-1-carboxylic acid (ACC) content and ethylene production. In treated plants, the ascorbate leaf pool was decreased, while lipid peroxidation and solute leakage were significantly higher than in ozone-free controls. The data indicated that ozone triggered protective mechanisms against oxidative stress in citrus."[15]
Safety regulations
Due to the strongly oxidizing properties of ozone, ozone is a primary irritant, affecting especially the eyes and respiratory systems and can be hazardous at even low concentrations. The Canadian Center for Occupation Safety and Health reports that:
"Even very low concentrations of ozone can be harmful to the upper respiratory tract and the lungs. The severity of injury depends on both by the concentration of ozone and the duration of exposure. Severe and permanent lung injury or death could result from even a very short-term exposure to relatively low concentrations." [16]
To protect workers potentially exposed to ozone,
U.S. Occupational Safety and Health Administration
has established a permissible exposure limit (PEL) of 0.1 μmol/mol (29 CFR 1910.1000 table Z-1), calculated as an 8 hour time weighted average. Higher concentrations are especially hazardous and
NIOSH
has established an Immediately Dangerous to Life and Health Limit (IDLH) of 5 μmol/mol.
[17]
Work environments where ozone is used or where it is likely to be produced should have adequate ventilation and it is prudent to have a monitor for ozone that will alarm if the concentration exceeds the OSHA PEL. Continuous monitors for ozone are available from several suppliers.
Elevated ozone exposure can occur on passenger aircraft, with levels depending on altitude and atmospheric turbulence.[18] United States Federal Aviation Authority regulations set a limit of 250 nmol/mol with a maximum four-hour average of 100 nmol/mol.[19] Some planes are equipped with ozone converters in the ventilation system to reduce passenger exposure.[18]
References
↑ <includeonly>[[Category:Pages with broken references]]</includeonly><span class="citeerror">Cite error: Invalid <code><ref></code> tag; no text was provided for refs named <code>who-Europe</code></span>
↑ Jerrett, Michael; Burnett, Richard T. and Pope, C. Arden, III and Ito, Kazuhiko and Thurston, George and Krewski, Daniel and Shi, Yuanli and Calle, Eugenia and Thun, Michael (March 12, 2009). "Long-Term Ozone Exposure and Mortality". N. Engl. J. Med. 360 (11): 1085–1095. doi:10.1056/NEJMoa0803894. PMID 19279340. http://content.nejm.org/cgi/content/abstract/360/11/1085. 
↑ Wilson, Elizabeth K. (March 16, 2009). "Ozone's Health Impact". Chemical & Engineering News (American Chemical Society Publications) 87 (11): 9. http://pubs.acs.org/cen/news/87/i11/8711notw9.html. 
↑ Weinhold B (2008). "Ozone nation: EPA standard panned by the people". Environ. Health Perspect. 116 (7): A302–A305. doi:10.1289/ehp.116-a302. PMC 2453178. PMID 18629332. http://www.pubmedcentral.nih.gov/articlerender.fcgi?tool=pmcentrez&artid=2453178. 
↑ DIRECTIVE 2008/50/EC on ambient air quality and cleaner air for Europe. EC (2008-06-11). Retrieved on 2010-08-23.
↑ Comments of the American Lung Association Environmental Defense Sierra Club on the U.S. Environmental Protection Agency's Proposed Revisions to the National Ambient Air Quality Standards for Ozone 72 FR 37818 July 11, 2007 http://www.lungusa.org/get-involved/advocate/advocacy-documents/Comments-to-the-Environmental-Protection-Agency-re-National-Ambient-Air-Quality-Standard-for-Ozone.PDF
↑ National Ambient Air Quality Standards for Ozone AGENCY: Environmental Protection Agency (EPA). ACTION: Proposed rule] http://www.epa.gov/air/ozonepollution/fr/20100119.pdf
↑ http://www.airinfonow.org/html/ed_ozone.html Fierro, O'Rourke, Burgess EPA/Pima County explanation of Ozone AQI.
↑ Anderson, W.; G.J. Prescott, S. Packham, J. Mullins, M. Brookes, and A. Seaton (2001). "Asthma admissions and thunderstorms: a study of pollen, fungal spores, rainfall, and ozone". QJM: an International Journal of Medicine (Oxford Journals) 94 (8): 429–433. doi:10.1093/qjmed/94.8.429. PMID 11493720. 
↑ University of East Anglia press release, Cloning the smell of the seaside, February 2, 2007
↑ Hoffmann, Roald (January 2004). "The Story of O". American Scientist 92 (1): 23. doi:10.1511/2004.1.23. Archived from the original on 2006-09-25. http://web.archive.org/web/20060925011907/http://www.americanscientist.org/template/AssetDetail/assetid/29647?&print=yes. Retrieved 2006-10-11. 
↑ Smith, LL (2004). "Oxygen, oxysterols, ouabain, and ozone: a cautionary tale". Free radical biology & medicine 37 (3): 318–24. doi:10.1016/j.freeradbiomed.2004.04.024. PMID 15223065. 
↑ Paul Wentworth; Nieva, J; Takeuchi, C; Galve, R; Wentworth, AD; Dilley, RB; Delaria, GA; Saven, A et al. (2003). "Evidence for Ozone Formation in Human Atherosclerotic Arteries". Science 302 (5647): 1053. doi:10.1126/science.1089525. PMID 14605372. 
↑ Iglesias, Domingo J.; Ángeles Calatayuda, Eva Barrenob, Eduardo Primo-Milloa and Manuel Talon (2006). "Responses of citrus plants to ozone: leaf biochemistry, antioxidant mechanisms and lipid peroxidation". Plant Physiology and Biochemistry 44 (2–3): 125–131. doi:10.1016/j.plaphy.2006.03.007. PMID 16644230. 
↑ 2-Health Effects of Ozone, Canadian Centre for Occupational Health and Safety
↑ Documentation for Immediately Dangerous to Life or Health Concentrations (IDLH): NIOSH Chemical Listing and Documentation of Revised IDLH Values (as of 3/1/95)
↑ 18.0 18.1 http://www.portfolio.com/views/blogs/daily-brief/2008/05/08/airplane-air-heavy-on-the-ozone