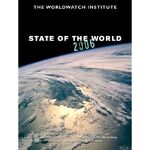 The 2006, Worldwatch Institute's annual State of the World report provides a special focus on China and India and their impact on the world as major consumers of resources and polluters of local and global ecosystems. The report explains the critical need for both countries to "leapfrog" the technologies, policies, and even the cultures that now prevail in many western countries for the sake of global sustainability—and reports on some of the strategies that China and India are starting to implement.
January 2006
ISBN: 0-393-32666-7
237 pages
Ad blocker interference detected!
Wikia is a free-to-use site that makes money from advertising. We have a modified experience for viewers using ad blockers

Wikia is not accessible if you've made further modifications. Remove the custom ad blocker rule(s) and the page will load as expected.