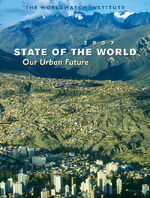 In 2008, half of the Earth's population will live in urban areas, marking the first time in history that humans are an urban species. State of the World 2007: Our Urban Future examines changes in the ways cities are managed, built, and lived in that could tip the balance towards a healthier and more peaceful urban future.
Preface
Foreword - Anna Tibaijuka
Foreword - The Honorable Jaime Lerner
Chapter 1: An Urbanizing World
Chapter 2: Providing Clean Water and Sanitation
Chapter 3: Farming the Cities
Chapter 4: Greening Urban Transportation
Chapter 5: Energizing Cities
Chapter 6: Reducing Natural Disaster Risk in Cities
Chapter 7: Charting a New Course for Urban Public Health
Chapter 8: Strengthening Local Economies
Chapter 9: Fighting Poverty and Injustice in Cities
Ad blocker interference detected!
Wikia is a free-to-use site that makes money from advertising. We have a modified experience for viewers using ad blockers

Wikia is not accessible if you've made further modifications. Remove the custom ad blocker rule(s) and the page will load as expected.