Ad blocker interference detected!
Wikia is a free-to-use site that makes money from advertising. We have a modified experience for viewers using ad blockers

Wikia is not accessible if you've made further modifications. Remove the custom ad blocker rule(s) and the page will load as expected.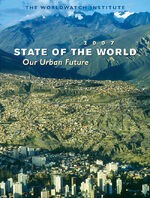 In 2008, half of the Earth's population will live in urban areas, marking the first time in history that humans are an urban species. State of the World 2007: Our Urban Future examines changes in the ways cities are managed, built, and lived in that could tip the balance towards a healthier and more peaceful urban future.
Preface
Foreword - Anna Tibaijuka
Foreword - The Honorable Jaime Lerner
Chapter 1: An Urbanizing World
Chapter 2: Providing Clean Water and Sanitation
Chapter 3: Farming the Cities
Chapter 4: Greening Urban Transportation
Chapter 5: Energizing Cities
Chapter 6: Reducing Natural Disaster Risk in Cities
Chapter 7: Charting a New Course for Urban Public Health
Chapter 8: Strengthening Local Economies
Chapter 9: Fighting Poverty and Injustice in Cities