Wind power in Oklahoma
Talk

0
6,599pages on
this wiki
The U.S. State of Oklahoma has high potential capacity for wind power, in the western half of the state.
Installed wind power
Year
Capacity
(MW)[1]
Generation
(GWh)[2]
2003
176
54.470
2004
176
572.744
2005
475
847.773
2006
535
1,712.441
2007
689
1,849.144
2008
708
2,358.080
2009
1,031
2,698.199
2010
1,482
3,808.083
2011
2,007
5,369
Some of the wind farms in Oklahoma include:
The $3.5 billion, 800 mile, Plains and Eastern Clean Line transmission line was approved in 2012, which will when completed in 2017 have the capacity to deliver 7,000 MW of wind power. In general it takes longer to build transmission capacity than it takes to build wind farms, resulting in the slowing of the development of wind power.
In 2010 Oklahoma adopted a goal of generating 15% of its electricity from renewable sources by 2015.[3]
Wind power accounted for 10.5% of the electricity generated in Oklahoma during 2012.[4]
Potential
Edit
Being centrally located in the midwest, the western half of Oklahoma is in America's wind tunnel, a corridor stretching from North Dakota south into the Texas panhandle, where the vast majority of the country's best on-shore wind resources are located.[5] Oklahoma has the potential to install 517,000 MW of wind turbines, capable of generating 1,521,652 GWh each year. This is over one third of all the electricity generated in the United States in 2011.[6]
Economic benefits
Edit
Oil was discovered in Oklahoma in 1859, and for the first years of the 20th century was the largest oil producer in the world. Peak production of 762,000 barrels/day was reached in 1927.[7]:p.98 In 2010, Oklahoma produced the 6th most oil of any U.S. state, 147,000 barrels/day. As wind begins to replace oil in importance, Oklahoma will continue to be an energy producing state, producing more than it uses, but from wind, instead of from oil. While increased drilling for oil only precipitates the inevitable drop in oil production, increased investment in wind accelerates the economic benefits.[7]:p.105
Wind generation
Edit
Oklahoma Wind Generation in 2011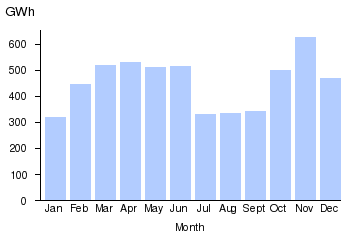 Oklahoma Wind Generation (GWh, Million kWh)
Year
Total
Jan
Feb
Mar
Apr
May
Jun
Jul
Aug
Sept
Oct
Nov
Dec
2009
2,698
183
182
233
233
159
175
140
172
152
253
269
308
2010
3,808
252
187
389
400
305
360
265
260
311
299
408
375
2011
5,369
319
446
519
531
510
514
329
336
343
498
626
469
2012
8,234
632
555
744
634
726
639
570
453
516
791
823
1023
See also
Edit
References
Edit
External links
Edit
Wind energy
(
USA
,
China
,
Germany
,
Japan
,
Russia
,
Ohio
,
Austria
,
Pakistan
,
Belgium
,
EU
,
UK
,
Italy
,
Canada
,
Spain
,
Netherlands
,
India
,
Australia
,
Mexico
,
France
,
Brazil
,
Ireland
,
Romania
,
New Zealand
,
Portugal
,
Denmark
,
Greece
,
Iran
,
Asia
,
New York
,
Sweden
,
Poland
,
Turkey
,
South Australia
,
Scotland
,
California
,
Maine
,
Philippines
,
Finland
,
Hungary
,
Estonia
,
Washington state
,
Idaho
,
Massachusetts
,
Texas
,
New Jersey
,
Nevada
,
Wyoming
,
Hawaii
,
Oklahoma
,
Morocco
,
Croatia
,
Alaska
,
Colorado
,
Lithuania
,
Pennsylvania
,
Oregon
,
Indiana
,
Serbia
,
Antarctica
,
Georgia
,
Malta
,
Illinois
,
Kenya
,
Arizona
,
Kansas
,
Michigan
,
Connecticut
,
New Mexico
,
Minnesota
,
South Dakota
,
Vermont
,
North Dakota
,
Delaware
,)
Wind • Carbon Monoxide recycling • Wind Turbine (floating, airborne) • Coal recycling (Fe) • Windmill • Diesel fuel recycling • Wind farm • Carbon Dioxide recycling (CO2) • Cape Cod Wind Project • Energy recycling (Al) • Sulfur Dioxide recycling (SO2) • Reclaimed water ( H2O) • Tornado • Oil recycling • Lead recycling (Pb) • Sail • Mercury recycling (Hg) • Solar wind • Fossil fuel recycling • Tropical cyclone • Biomass recycling • Carbon recycling (C) • Environmental impact of wind power • Sulfur recycling (S) • Limestone recycling • Hydrogen recycling (H) • Natural gas recycling • Greenhouse gas recycling • Ethanol recycling • Wind-powered vehicle • Propane recycling • Windpump • Gasoline recycling • Biodiesel recycling • Sailboat • Offshore wind power • High-altitude wind power • Chlorine recycling (Cl) • Uranium recycling (U) • Thorium recycling (Th) • Salt recycling • Bleach recycling • Moisture recycling • Nitrogen recycling (N) • Scandium recycling (Sc) • Ammonia recycling (NH3) • Reactor-grade plutonium (Pu) • Wind turbines on public display • Wind atlas • Gypsum recycling • Grid parity • Wind ENergy Data & Information (WENDI) Gateway • Land recycling • Erbium recycling (Er) •
Chemical elements
: NO
x
,
Cf
, NO
2
,
Kr
, ClO
2
‎,
Zn
,
Cd
,
As
,
Be
,
Si
,
B
,
P
,
Ag
,
Bi
,
Pt
,
Po
,
Sn
, UO
2
,
Co
, SnO
2
,
Ni
,
Ra
,
Ir
,
Li
,
H2S
,
Np
,
Ac
,
Ge
,
Se
,
K
,
Hf
,
I
,
Ne
,
Mg
,
Ti
,
Ca
,
V
,
Mn
,
Es
,
W
,
Am
, KO
2
,
He
,
Pd
,
Ta
,
Cm
,
Au
,
Cu
,
O
,
Cr
,
Os
,
Ru
,
Rh
,
F
,
Cs
,
Na
,
Pa
, SO
x
,
Zr
, {{{1}}}
F
{{{2}}}
,
SO4
,
C
H
3
,
In
,
Pm
,
Nb
,
HCO3
,
Te
,
Re
,
Dy
,
Ar
,
Xe
,
Ba
,
Sb
,
Tb
,
La
,
Eu
,
Y
,
Nd
,
Br
, SiO
2
, {{{1}}}
Br
{{{2}}}
,
Cl
O
,
Tl
, {{{1}}}
Cl
{{{2}}}
,
Mo
,  · 
H
2
O
, {{{1}}}
S
{{{2}}}
,
Tc
, {{{1}}}
As
{{{2}}}
,
Ho
,
Pr
,
Tm
,
Sr
, (
NO
2
), {{{1}}}
C
{{{2}}}
,
Sm
,
Ce
,
Lu
,
Rb
,
Bk
, {{{1}}}
O
{{{2}}}
,