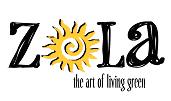 Founded in 2007, Zola Goods LLC [1] provides an opportunity to share an empowering message and initiate change in homes across the United States, while also offering the chance to earn a supplemental income.
Embracing a grassroots approach, Zola recruits impassioned individuals to throw Eco Home Parties in their communities. Zola's product line is carefully determined using the triple bottom line value system that focuses on People, Planet, and Profit. Featured are some of the best eco-friendly products on the market including, energy and water saving devices, reusable bags, recycled paper goods and soy candles. In addition to environmental benefits, many of these products will also save people money.
With interesting, and sometimes startling facts, a Zola Coordinator takes guests through the life of an average American consumer and demonstrates how to make small changes to improve their lives and surrounding environment. Responses from Zola customers have ranged from "Thank you! I have wanted to make changes, but didn't know where to start. You did all the work for me," to "You made it so easy to make these changes, and I didn't feel like I was being judged."
Zola, of Italian origin, means "piece of earth." By making small changes, each of us can heal our own piece of earth and together create an abundant future for our planet.
Ad blocker interference detected!
Wikia is a free-to-use site that makes money from advertising. We have a modified experience for viewers using ad blockers

Wikia is not accessible if you've made further modifications. Remove the custom ad blocker rule(s) and the page will load as expected.